Resumes have arrived, either as spontaneous applications or in response to an advert. It is a matter of saving them in order to then facilitate the hiring of the right person.
Who is concerned by this article?
The administrator as responsible of Eurécia configuration.
Applications management
Access : Hiring > CV database
Identify the applicant, if he is external to the company 
Click on 'New applicant' 
Fill-in the Name, First name, telephone and the email address to contact the person. 
Fill-in other information if necessary: title, birth date, address 
Complete the experience in years 
Click on 'Save the new applicant' 
The complete sheet of the applicant opens 
 

Here a demo that can help you: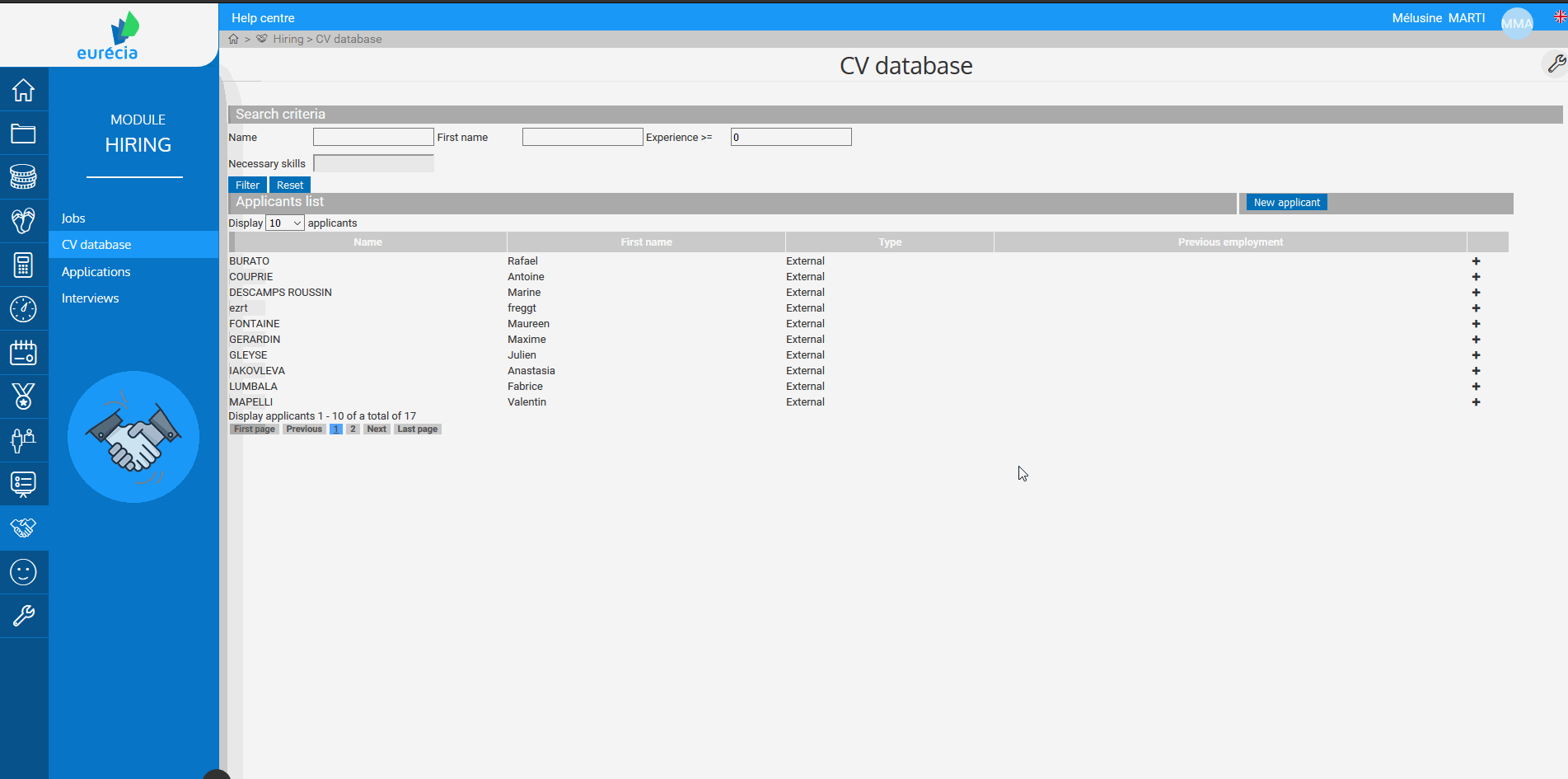 Identify the applicant, if he actually is in the company
Click on 'Create an applicant from the collaborator'
Search for the collaborator in the list, his personal data will be recovered 
The record of the applicant opens, and it is complete
 
Fill in the skills 
The percentage of adequacy for the job will be calculated according to his skills and the required skills. 
The skills to fill in are those declared by the applicant, in his resume and cover letter. 
For the employees, the skills are automatically filled in with the skills of the employee record, but you still can update them. 
In the applicant profile, click on 'Add skills' and a menu appears
Select the skills of the applicant
Select the level
Click on 'Approve'
The record has been updated with the skills! It is then possible to edit each level of skills or delete some from the list. 
Add documents
The applicant sent a resume and a cover letter, and other documents? It is possible to add them directly in the applicant profile in order to find all the information you need in one and only place. 
Click on 'Documents associated with the applicant'
Click on 'Add a file'
Give a name to the document
Select the file you want to add 
Enter a document type : Resume, Cover letter, other 
Click on 'Validate'
Keywords associated to this article:
CV database - application - spontaneous - skills - applicant - collaborator