The applications you received have been analyzed and some have been selected to go on with the hiring process. Next step: the interview. 
Who is concerned by this article?
The administrator of Eurécia platform and Managers. 
The steps
Before the interview
Access : Hiring > Interviews
A person has caught the attention and an interview is planned. This interview can be by telephone or in person, it is interesting to be able to record its preparation and conclusions.
Click on 'New interview' 
Select an application 
The hiring manager is automatically proposed as the interview manager. You can edit it. 
Fill in the interview date, the hour and the location
Fill-in the preparatory elements to the interview according to the previous analyze 
The software automatically save the inputs 
To print it, click on the icon 'print. 
Here a demo that could help you: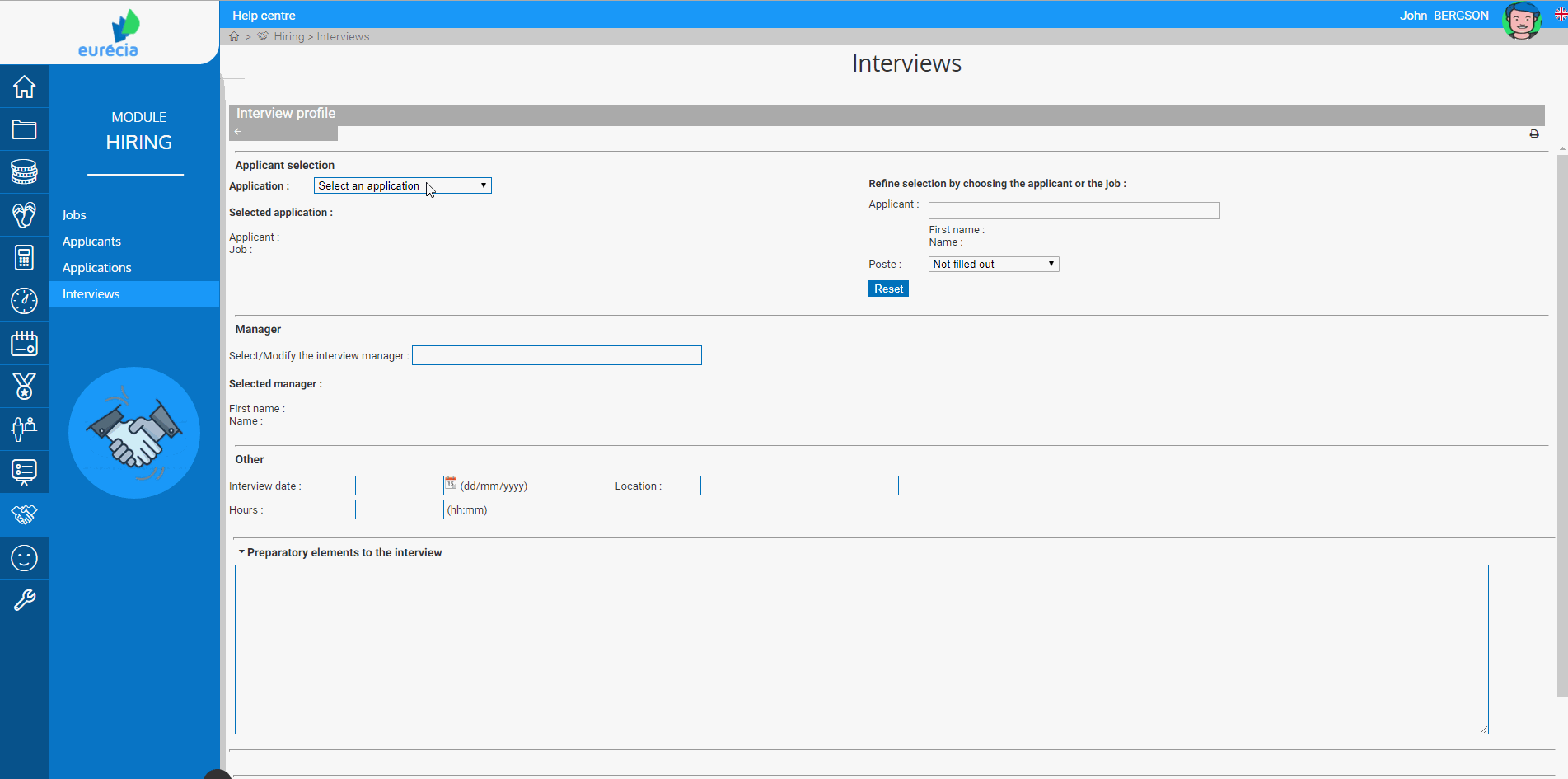 During the interview

Caution ! 
Do not forget to take with you the interview sheet! (or to take your computer with you to complete the interview sheet). 
Download and print the CV and the covering letter from Hiring > Applications 
And, during the interview, try to asses each of his skills. 
After the interview
Input conclusions
Access : Hiring > Interviews
The purpose is to report the conclusions of the interview and thus clearly have all the information necessary to take a decision, alone or with the other employees involved in the hiring process.
Open the interview sheet
Complete the final assessment of the applicant's skills 
Write the conclusions of the interview
After the interview, it is possible to update some missing elements or even edit the status if a decision has been made.

Note : the adequacy between applicants and the job has been re-calculated depending on skills from the interviews.
Access : Hiring > Applications
Open the applicant sheet
Update the information 
The application list has been updated and allows to have an overview of the hiring process. 
 

Note : All information are now available to make a decision: who is going to have the job? 
Input the decision
Access : Hiring > Applications
Open the applicant sheet 
Update the status of the application according to the decision made

In progress : the hiring process is still ongoing, no decision has been taken, or another interview is planned with the applicant.
Retained: the applicant has been selected to join the company, you only need to approve with him the terms and conditions
Hired : the applicant has been select to join the company, term and conditions has been approved with him, he will become an employee soon 
Not selected: the applicant has not passed the recruitment step, he is not selected
 
Keywords associated to this article:
CV data base - hiring - interviews - applications - applicants