Eurécia is proud to present you its brand new user directory : more user friendly, more accessible, clearer and funnier 😊 ! Let us introduce you to all the new features !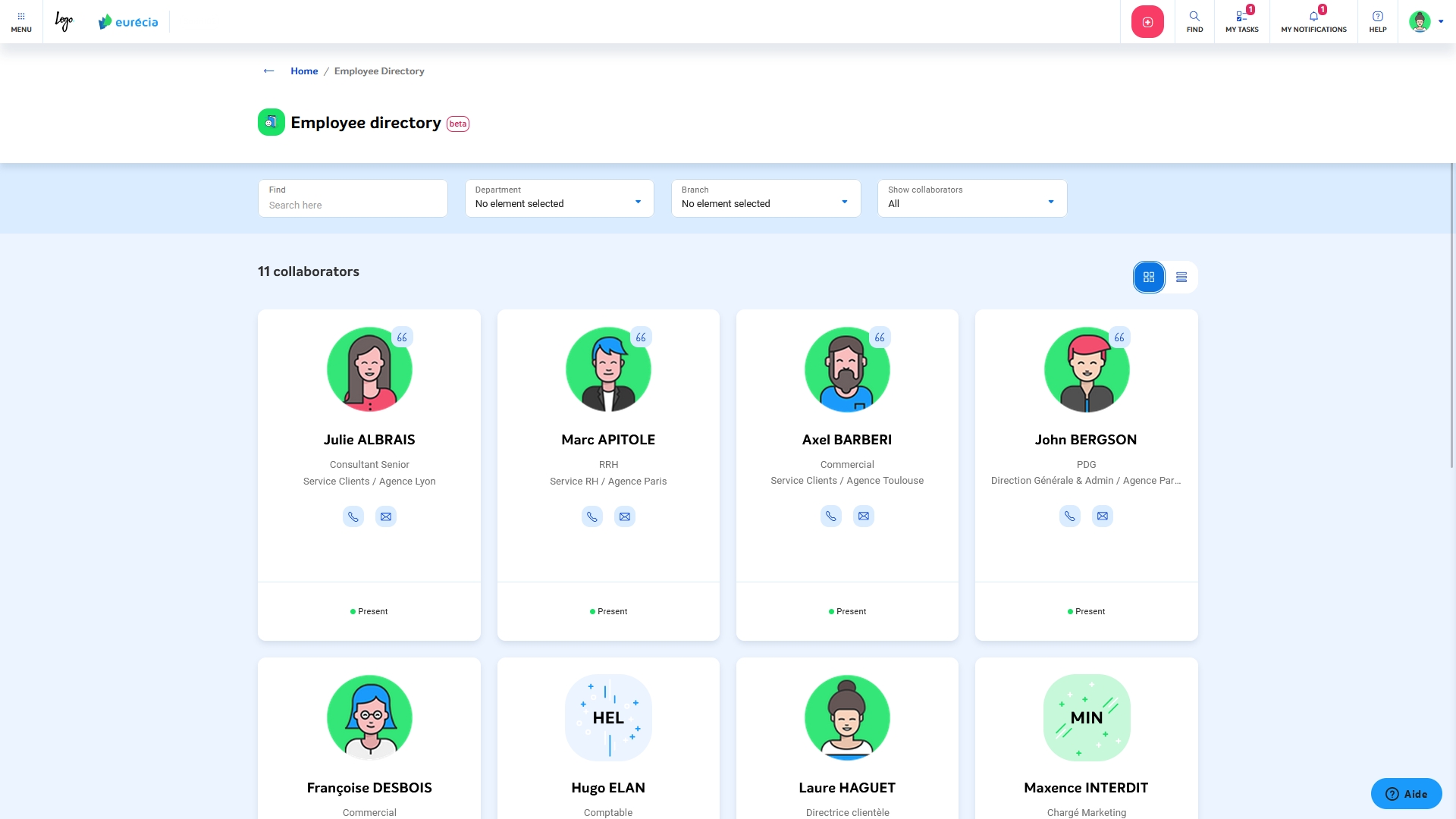 Who is concerned by this article ?
Every user of Eurecia.
What's on the menu ?
Your organisation chart with photographs
A map display
A clear and simplified display in order to find all the needed informations on your co-workers at a glance :
departement and/or structure
profesionnal phone number
profesionnal email address
presence spot.

To be noted :
The possibility to display the different informations is determined by your company's configuration.

The introduction sentence
You wish to know more about Marc ? Click on '

' :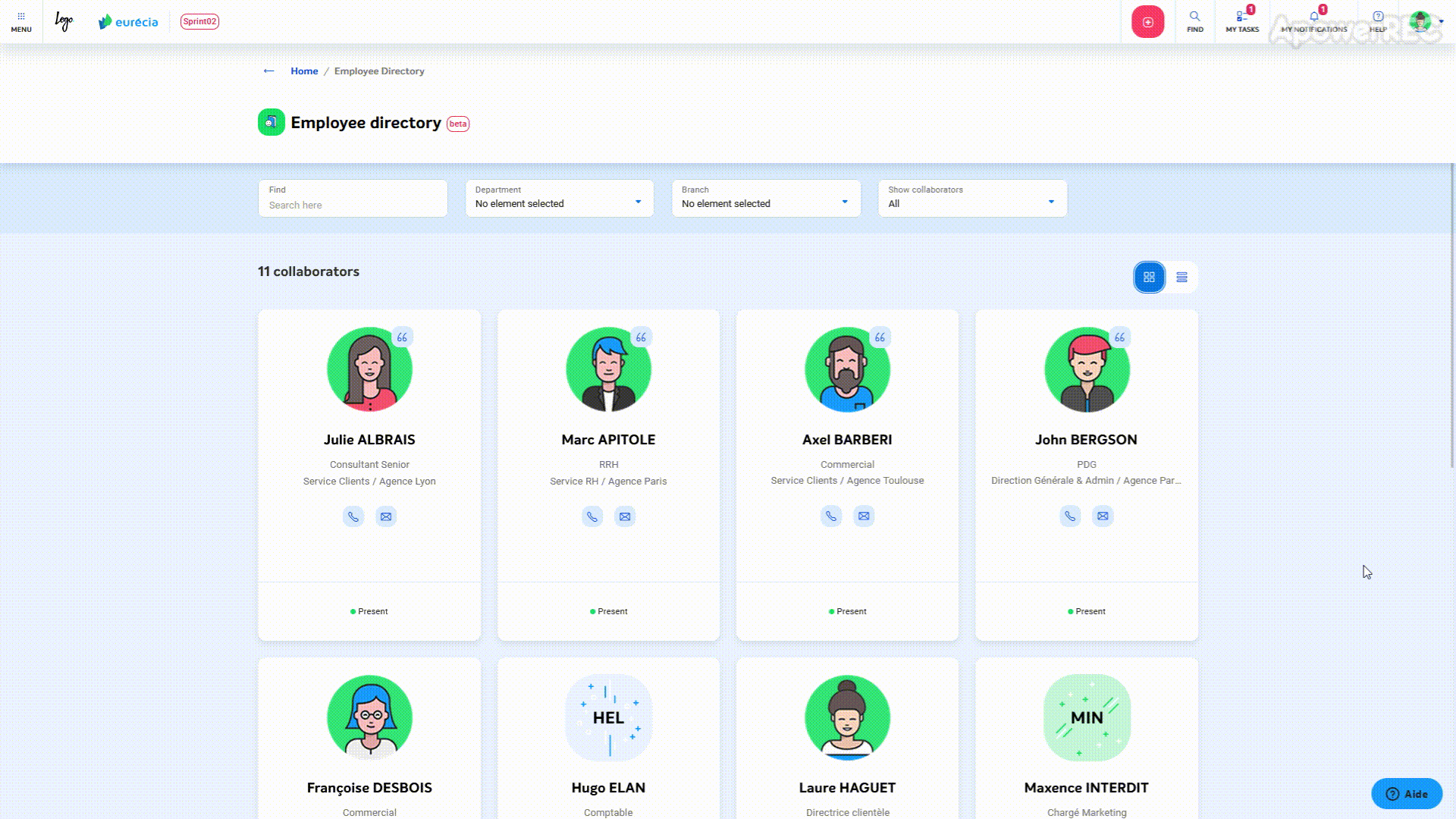 Each employee has the possibility to fill-in a short sentence in order to introduce himself, tell his co-workers more about his life, his passions and his hobbies !
It all takes place in the personal data tab of his user sheet, and is limited to 105 characters.

Change the display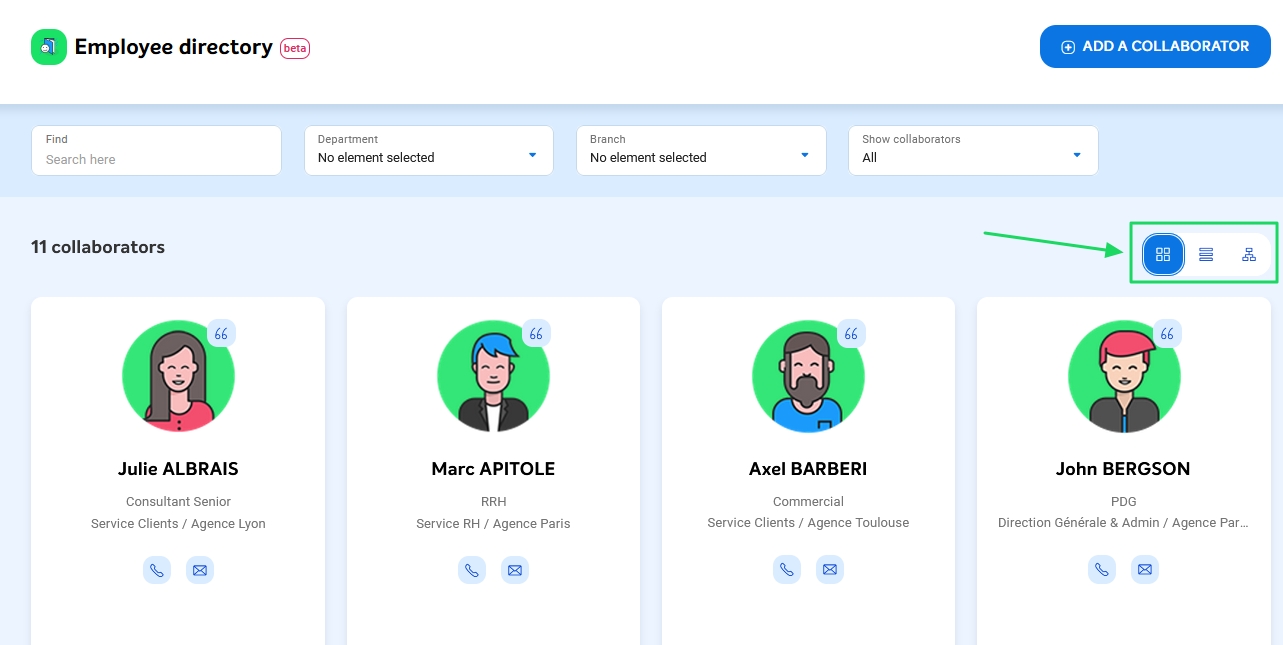 List view
You want to display the essential informations in simplicity ? Switch to list view by clicking on : '

'.
I can choose the columns I want to display by clicking on :

Department / Structure
Email
Phone number
Status

I may also choose how many employees are displayed on each page, at the bottom :
My choices will be memorised for my next connections.
Organisation chart
You are familiar with it and it is still available !
To access the organisation chart, I click on '

'
Create or edit an absence type
Your co-workers' pictures
Your co-workers may add their photograph (or else 😊) in their personal space :
I simply click on my avatar on the top left corner :

I select the photograph from my computer's file explorer
I click on 'Open'
I am careful to properly save my user sheet by clicking on the diskette.
Default avatar
If my co-workers have not added their photograph on their personal space, they will have a default avatar.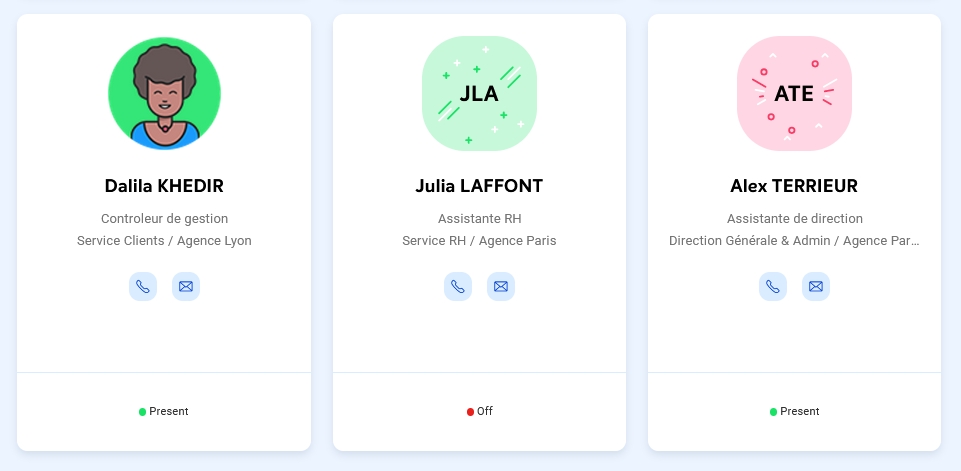 Why does Julia have a green background and Alex a red background ? 🤔 Excellent question !
The colour selection is simply made depending on the first letter of their last name :

My co-worker's status
This small spot, displayed in green or red, indicates at a glance wether your co-worker is present or not at this moment.
You are looking for informations on the settings of the presence spot ? Look no further, you will find everything you need in this article : Create or edit an absence type.
What's next ?
This new user directory and new homepage, that you can discover in details here, are only the first steps. Our new design will progressively be applied to all of our software's pages. On this occasion, you will discover a lot of new features we can't wait to show you😊 !