Your Eurecia software begins its transformation and starts with its homepage !
Simpler, clearer and more readable, you will find all your usual features enliven with brand new ones.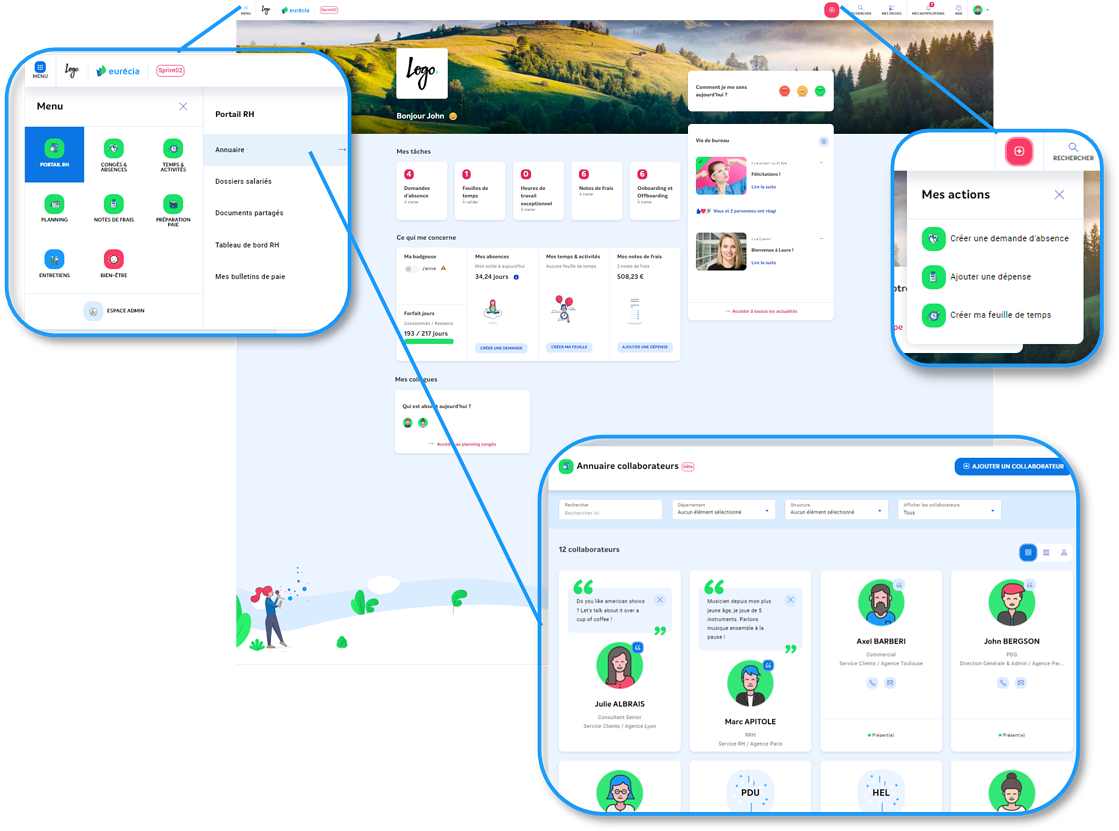 Let's take a look together ?
Who is concerned by this article ?
Every user of Eurecia.
To be noted :
You don't have the same display as shown in the screenshots and videos ? It's normal ! The new display of our homepage adjusts depending of the modules and options used.
Only the available features are displayed.
What's on the menu ?
A homepage which adapts to your needs
Wether you have 1 or 10 active modules, using Eurecia on a computer or a smartphone, our new homepage will adapt to offer you optimal single user experience.
You are an employee ?
The section « What concerns me » focuses on my essential information and shortcuts towards my menus according to the modules and options subscribed by my company :
The calculation of annual number of working days done for users with an annual contract.
Your virtual clocking terminal.
Staff leave & Absences : my global leave balance, as well as the detail of my rights by clicking on '' for information, and a direct access to the requesting of absences.
Time & Activities : a direct access to my running timesheet and the creation of a timesheet if I have the needed rights.
Expense reports : access to my running expense report and the addition of an expense.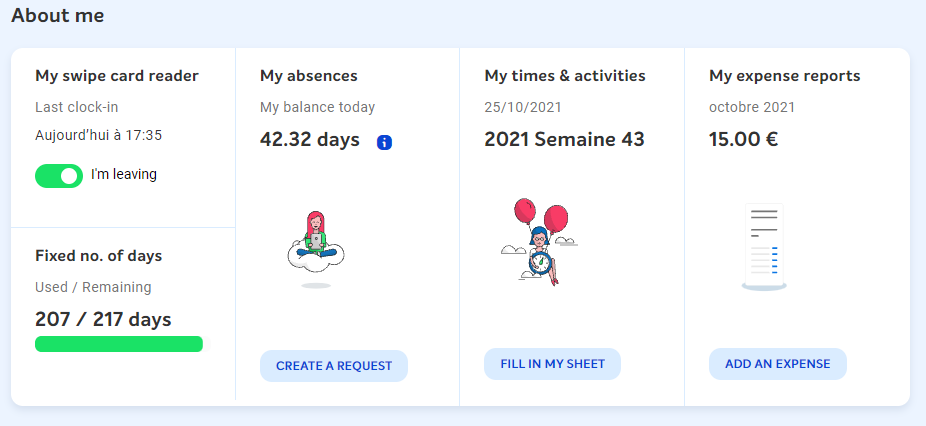 You are a team manager ?
Your new homepage will offer you a « My tasks » zone in order to see in the blink of an eye pending actions :
Requests to be approved
Timesheets to be approved
Expenses to be approved
Work requests to be approved
Pending Onboarding and/or Offboarding tasks

Next, with a simple clic, I can reach the tasks to be done.
Your usual features, still accessible
Today's mood
Whence the well-being module is activated, each employee may express his mood of the day by use of our new smileys.

Office life
Office life still allows you to communicate with your employees, simply and directly 😊 !
Good news ! Office life is now accessible from mobile devices.
What's next ?
This is only the first step towards our new design. It will progressively be applied to all of your software's pages.
New features are coming soon, we will keep you in touch !
While you wait for them, have you seen our new user directory and new navigation ?
See you soon !