It is possible to manage seniority in a certain leave type or in 'Paid leaves' for example. 
Who is concerned by this article ?
Administrators of Eurécia.
Configure seniority days 
Access : Admin Area > Staff leave and absences > Staff leave and absences types
You can open the concerned leave type to add seniority: 
You can also create an absence type called 'Seniority' that will have only seniority days
In 'Seniority' check 'Seniority management' 
Choose the period in 'Add days to' :

Tracker for current period: allows to authorize to request days when the day is accrued, even if the supply is made in the paid leave tracker and it cannot be taken in advance.
Tracker for current accrual period: allows to authorize to request the day as soon as it is accrued, on the condition that the anticipation of the tracker credited is authorized.

Choose if you want to add the days

At 'Hire date anniversary'
At a 'fixed' date in ' Add days accrued as of'.

Then click on 'Add a year'  for each seniority year and add Accrued entitlements. Click on 'Copy this year' to insert a new line or insert a new line. 
Save
 

Caution ! 
You need to add a line for every year.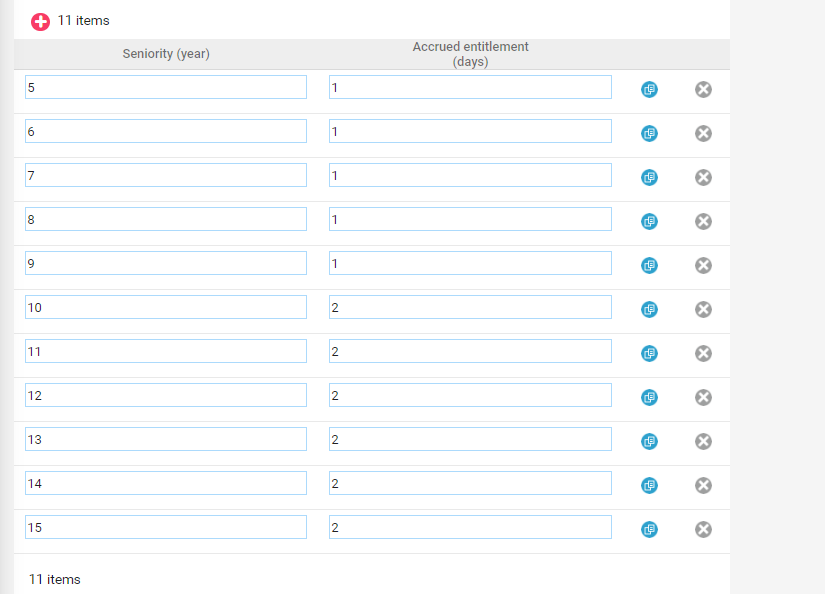 Keywords associated to this article :
Seniority days - trackers - Absence types - years - entitlements