Eurécia allows to configure different expense types that employees will be able to input when creating expense reports.
Who is this article intended for?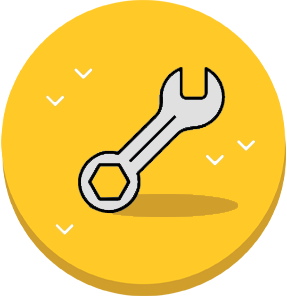 The administrator as responsible of Eurécia configuration.
Create or edit an expense type
Access : Admin Area > Expense reports > Profiles and Groups
Select the relevant expense report profile: The expense types appear under the selected profile.
Open an existing expense or create a new expense type by clicking on 'Create a new expense type'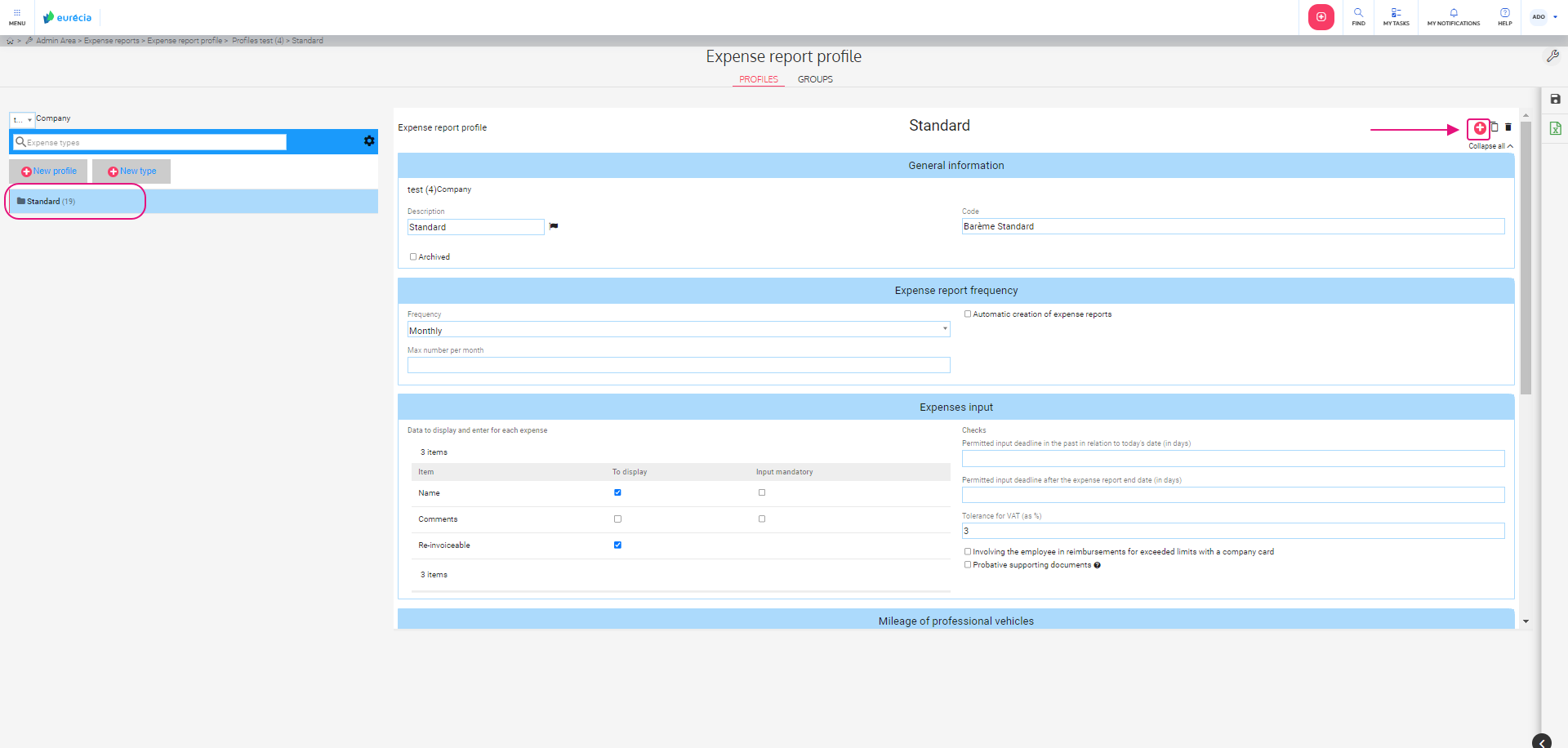 Note: It is possible to copy an existing expense type, by opening it and click on

"Copy element".

Beware!
In order to use an expense type, it has to be associated to an expense report profile.
"General information"

Set the name for the expense in "Description" (Click on the flag to display other languages), the type of icon, the code and the MCC codes (optional).
"Associated groups"

This section allows you to gather similar expenses (For example, "midday meal" and "Evening meal" into "Meals", or group "Airplane", "Train", "Taxi" and "Kilometer expenses" into "Transport").
"Accounting information"

This section defines the various information related to the export of expenses for accounting purposes (Expense accounts, VAT accounts, VAT refunds and information on the different VAT rates available for one specific type of expense).
"Payments"

This section allows to set payment methods:
Actual expenses
Fixed
Km expenses
You may as well add a limit to an expense.
Hint!
"Participants" : determine who should be impacted by the set spending limit (Budget).
"Report sender" : Only the employee, creating the expense, is impacted by the set limit.
"By invitee, sender included": The spending limit applies to both employees and eventual invitees.
"By invitee, sender not included": The spending limit applies only to invitees. Employees may spend as much as they want.
"Invitee management"

This section allows invitations (Internal and external) for a specific type of expense.
The same part may be used to define mandatory parts to be filled in for each invitee.
"Meal vouchers"

This section is especially applicable if meal vouchers are provided. Indeed it defines the impact meal related expenses will have on meal vouchers entitlement (deduct or not).
For example:
An employee inputs a 'Midday meal' expense, and add 3 internal invitees, the software can deduct a meal voucher for all individuals.
"Supporting documents"

Adding both a "Supporting document" and "Reference" to justify the expense will be mandatory.
"Controls on input"

Defines if the expense can be used several times a day and if it is possible to input a quantity in an expense (for example, for an expense 'Hotel', enter 3 nights).
If setting up a transport related expense ("Km expenses for example), it is possible to decide whether yes or not the calculation will be made using Google Maps:

Mandatory: Employees will be required to enter addresses. Calculation between a point A and a point B will be automatically processed by the system.
Optional: Employees may decide to not enter any address. They may add information manually, or modify the number of kilometers by themselves.
Forbidden: Employees will be required to enter the number of kilometers. They may decide whether yes or not to add information about their point of departure or arrival.
Keywords associated to this article:
Expense report - professional expenses - expense - expense type - reimbursement - expense report