Eurécia allows to configure different expense types that employees will be able to input when creating expense reports. 
Who is concerned by this article?
The administrator as responsible of Eurécia configuration.
Create or edit an expense type
Access : Admin Area > Expense reports > Open Profiles and Groups
Select the expense report profile concerned: the expense types appear under the profile selected 
Open an existing expense or create a new expense type by clicking on 'Create a new expense type'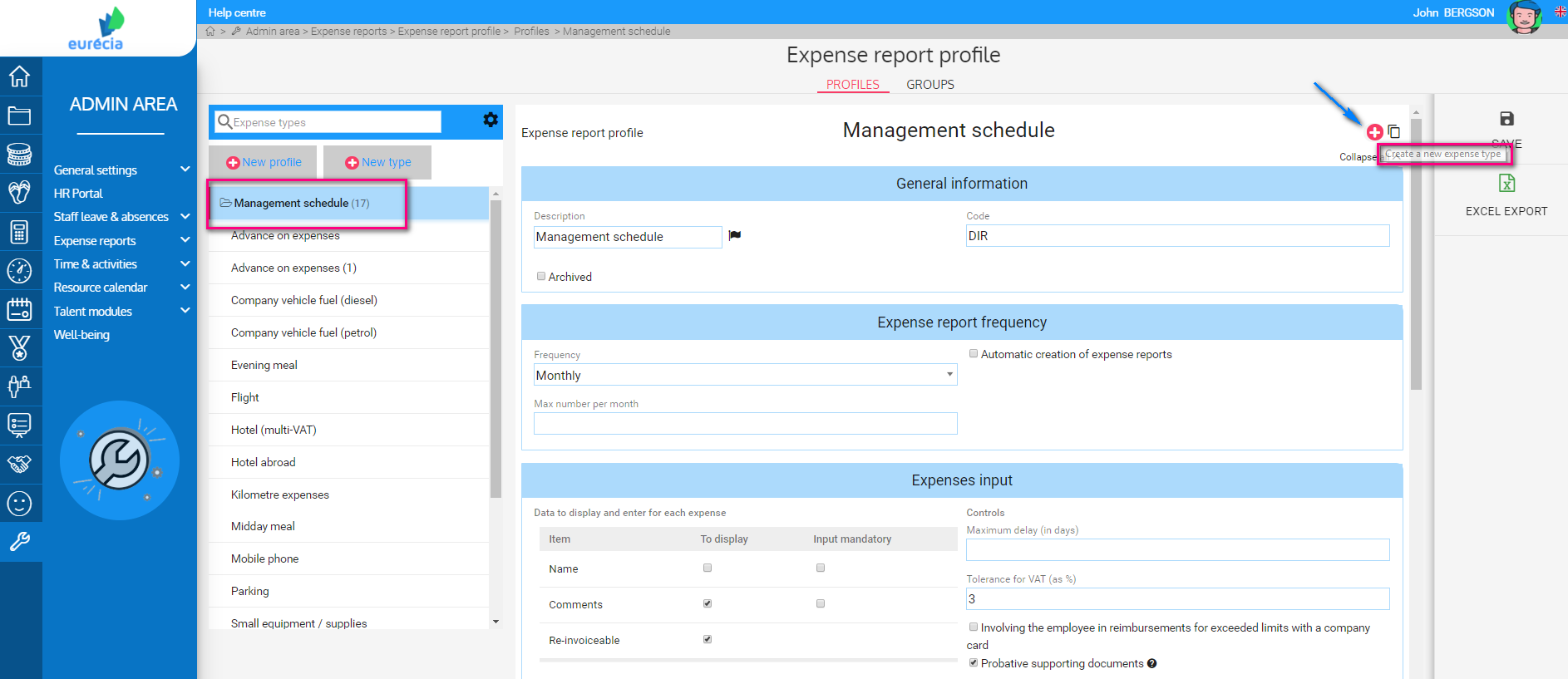 Note : It is possible to copy an existing expense type, by opening it and click on 

'Copy element'.

Caution ! 
In order to use an expense type, it has to be associated to an expense report profile. 
'General information'

Define the name of the expense in 'Description' (click on the flag to display other languages) the icon, the code and the MCC codes (optional). 
'Associated groups'

This section allows you to group together several similar expenses (for example, group "midday meal" and "Evening meal" into "Meals", or group "Airplane", "Train", "Taxi" and "Kilometer expenses" into "Transport").
'Accounting information'

This section defines the various information related to the export of expense reports in accounting (expense account, VAT account, VAT recovery and information on the different VAT rates available for this expense).
'Payment'

This section allows to define the payment method: 
Actual expenses
Fixed
Km expenses
You also can add a limit to the expense. 
'Invitee management'

This section allows to authorize invitations (internal and external) for this expense type (for restaurant for example). 
It allows also to define the fields to enter by external invitee. 
'Meal vouchers'

This section is useful for meal expenses, it allows to define the impact this expense will have on meal vouchers (deduct or not). For example, when an employee input a 'Midday meal' expense, and add 3 internal invitees, the software can deduct a meal voucher to the one who created the expense reports and for the 3 invitees too. 
'Supporting documents'

It allows to make 'add a receipt' mandatory and to input a reference in the expense report.
'Controls on input'

It allows to define if the expense can be used several times a day and if it is possible to input a quantity in an expense (for example, for an expense 'Hotel', enter 3 nights).
Keywords associated to this article:
Expense report - professional expenses - expense - expense type - reimbursement - expense report